Turner Sports' Innovative Players Only Franchise Returns to TNT Tuesday, Jan. 23, with Cavaliers/Spurs & Celtics/Lakers
Thursday, January 11, 2018
Shaquille O'Neal Joins Players Only Team;
Expands TNT Role to Tuesdays & Thursdays
TNT's Players Only Adds Two-Time NBA All-Star Caron Butler as Reporter
TNT's innovative Players Only franchise – with former NBA stars serving in all broadcast roles – will return for its second season on the network starting Tuesday, January 23. The weekly live game series, incorporating a more conversational delivery and unique player integrations, will tip off with a doubleheader featuring the Cleveland Cavaliers at San Antonio Spurs at 8 p.m. ET, followed by the Boston Celtics at Los Angeles Lakers at 10:30 p.m.
New for this year's Players Only presentation on TNT will be the addition of Shaquille O'Neal, who expands his studio analyst role beyond the Sports Emmy Award-winning Inside the NBA to now include Tuesday and Thursday nights. Caron Butler, a two-time NBA All-Star, will also be a new addition to the Players Only roster as an on-site reporter.
The Players Only presented by State Farm team of Greg Anthony (primary host/play-by-play), analysts Kevin McHale and Richard "Rip" Hamilton, and reporter Dennis Scott will provide commentary for Cavaliers vs. Spurs at 8 p.m.  The night's second game will include Brent Barry (primary host/play-by-play), analysts Grant Hill and Derek Fisher, with reporter Butler on the call for Celtics vs. Lakers at 10:30 p.m. 
Chris Webber, O'Neal, Isiah Thomas and Baron Davis will provide studio analysis and commentary throughout each night of Players Only coverage via the Players Only Pregame Show presented by Autotrader; Players Only American Express Halftime Report and Players Only Postgame presented by Kia.
Additionally, segments from Area 21 with TNT analyst Kevin Garnett will also be incorporated into the Players Only studio and game coverage throughout the evening, including special content via Facebook airing during the third quarter.
Players Only will continue Tuesday, Jan. 30, with Cavaliers vs. Detroit Pistons at 8 p.m. and Portland Trail Blazers vs. LA Clippers at 10:30 p.m.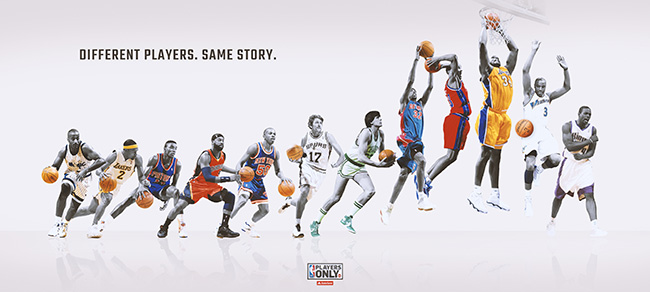 ADDITIONAL NOTES
Tuesday, Jan. 23


8 p.m. ET – Cleveland Cavaliers vs. San Antonio Spurs
Greg Anthony, Kevin McHale, Richard Hamilton & Dennis Scott

10:30 p.m. – Boston Celtics vs. Los Angeles Lakers
Brent Barry, Grant Hill, Derek Fisher & Caron Butler

Players Only Postgame presented by KIA
Chris Webber, Shaquille O'Neal, Isiah Thomas & Baron Davis
Kevin Garnett & special guest in Area 21

Tuesday, Jan. 30

8 p.m. ET – Cleveland Cavaliers vs. Detroit Pistons
Barry, Hill, Fisher & Scott

10:30 p.m. – Portland Trail Blazers vs. LA Clippers 
Anthony, McHale, Hamilton & Butler

Players Only Postgame presented by KIA
Webber, O'Neal, Thomas & Davis
Garnett & special guest in Area 21

In addition to TNT, the Players Only franchise extended to NBA TV this season as the network's featured game of the week on Tuesday nights from October 24 through January 16. The final Players Only telecast of the season airing on NBA TV will feature the New Orleans Pelicans at Boston Celtics and Phoenix Suns at Portland Trail Blazers on January, 16, in a doubleheader tipping off at 7:30 p.m.  Additionally, a new Players Only: Monthly series debuted in December on NBA TV with an emotional reunion between Magic Johnson and Thomas. The next episode premiere will be Sunday, January 28, at 7 p.m.

Live streaming coverage of all NBA on TNT games is available via

http://www.tntdrama.com/watchtnt

and the Watch TNT app.  Fans are able to access the games whenever and wherever they desire by logging in with the user name and password provided by their TV service provider.

 

-30-